How do you identify a good air purifier? What air purifier certifications, marks, seals, symbols, or stickers show that it is safe? Today, we take a look at the most common air purifier certifications. These air purifier standards are important for anyone looking to make their home more habitable.
Once you know how to identify these certifications, you are good to go. You are guaranteed to get value for your money if you buy only the best products on the market. At Best Air Purifier Canada, we constantly endeavour to point you in the right direction.
While it is not a must for one air purifier to have all available certifications, some are critical, especially if you suffer from allergies. Various bodies in different jurisdictions test and certify air purifiers and other appliances for allergies and asthma-friendliness.
Also, air purifiers are manufactured in many different parts of the world. So if you buy one from the UK, it will most likely be tested certified by a UK organization.
Why is it Important That an Air Purifier is Certified?
As with any other home appliance, you must get the maximum benefit without exposing your body to harmful substances and emissions. So, since we buy air purifiers to clean our indoor air, they must not expose us to health hazards.
And that is why it is important to buy a certified air purifier. The best air purifiers can last for years, so it is wise to ensure that the one you buy has undergone numerous tests to acquire such certifications.
Besides, these tests are done in controlled environments where the air purifiers are exposed to harmful airborne pollutants such as dust, pollen, dust mites, smoke, mould, etc. An air purifier is only certified upon meeting specific minimum standards.
What Certifications do the Best Air Purifiers Hold?
Numerous certifications are available for air purifiers. Some are specific to air purifiers, while others are available for other home appliances. A good example is power consumption certification which cuts across all electronics.
It's important to note that certification must not necessarily have been acquired in your country. Foreign seals of approval are also welcome because of the high standards of tests performed by the respective inspection bodies.
Below are the most common air purifier certifications, how they are issued, and how they look like:
1. AAFA certification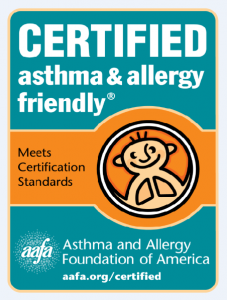 The AAFA certification is the most common air purifier certification issued by the Asthma and Allergy Foundation of America. Apart from air purifiers, you'll see this critical mark in other home appliances such as vacuum cleaners, humidifiers, dehumidifiers, and washing machines.
Also, bedding and stuffed toys pass through these tests to ensure that they do not release allergens.
Because some manufacturers tend to lie and exaggerate the capabilities and quality of their products, the AAFA is there to protect consumers. Only the best air purifiers are given the 'asthma & allergy friendly' certification mark after numerous thorough tests.
It is a vital certification to look for as you shop for the best air purifier for your home or office. More importantly, you must not settle for less if you suffer from allergies or asthma (unless the air purifier has been certified as allergy-friendly by another recognizable body).
2. Allergy UK certification
Since 1991, the British Allergy Foundation has protected those who suffer from allergies, especially in the UK. Since 2001, this charitable organization changed its name to Allergy UK but offers the same services to ensure people buy the safest products.
They review various products, including air purifiers, by testing the airflow, CADR (Clean Air Delivery Rate), and gas tests. So, if you see the Allergy UK Seal of Approval on any air purifier, it means that it has been passed fit for use.
Again, you don't need to be British to seek this mark because the tests are universally acceptable.
3. ECARF certification
ECARF (European Center for Allergy Research Foundation) is another essential air purifier certification body that should give you confidence in a particular unit. It was founded in 2003 and is headquartered in Berlin, Germany.
Since the first ECARF Seal of Quality was issued in 2006, it is not as common as the Allergy UK and AAFA certifications. However, numerous tests it does are crucial in approving air purifiers. These include efficiency, ozone release, noise levels, and off-gassing.
4. CARB certification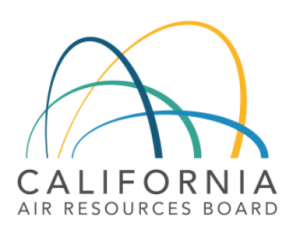 While this is specific to the state of California in the US, it is a huge plus if you can get an air purifier with this certification.
The California Air Resources Board is the most strict in the US and requires air purifiers to produce ozone levels of less than 0.050 parts per million. Anything above that and the air purifier is banned. However, it does not include efficiency or particulate matter removal capability in the tests.
Nonetheless, it is an essential certification because exposure to excess ozone levels can lead to health problems.
5. AHAM certification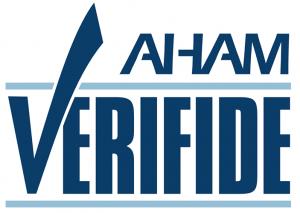 The AHAM Verified mark is another crucial mark that you need to locate on an air purifier. AHAM (Association of Home Appliance Manufacturers) engages independent laboratories to verify manufacturers' energy, volume, and performance claims.
Also, AHAM measures a critical feature called Clean Air Delivery Rate (CADR). CADR is the air volume that a particular air purifier cleans per hour or per minute. Separate scores are given for three of the most common indoor air pollutants – tobacco smoke, dust, and pollen.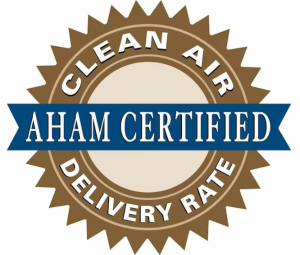 So, if you see the AHAM Verified Seal of Approval on any product, it means that the CADR figures given on the product description or the packaging are reliable. This information is essential, especially if you are looking for a unit with a high CADR for a particular allergen.
While AHAM certification is voluntary, a manufacturer who believes in its products will submit them for certification.
6. UL certification
UL (Underwriters Laboratories) ensures that air purifier manufacturers meet safety standards. They offer testing, inspection, and certification to guarantee consumers of quality and safety.
The focus is on ozone emissions, with the recommendation by EPA being zero ozone emissions as per UL 2998 standard certification.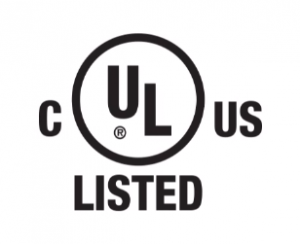 7. Energy Star certification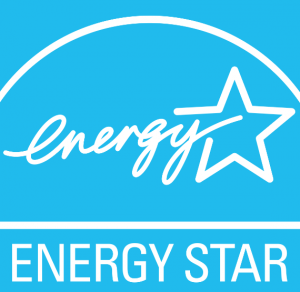 Energy Star is yet another voluntary certification that shows whether an air purifier meets stringent energy efficiency guidelines. While it has nothing to do with how efficient an air purifier is at removing pollutants, it is still vital.
Energy Star rated air purifiers consume very little power. While air purifiers generally do not use too much electricity, one with the Energy Star will end up saving you a lot of money in the long run.
8. ETL certification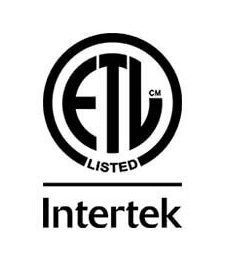 If your air purifier has an ETL listed mark, you have landed on a gem. Intertek offers an ETL certification globally to ensure that products, including air purifiers, comply with North American safety standards.
Because Intertek is one of the world's best testing, inspection, and certification companies, they do a thorough job before listing any product. Some of the tests done on products for the North American market include ASME, ASTM, ANSI, UL /ULC, among others.
9. Quiet Mark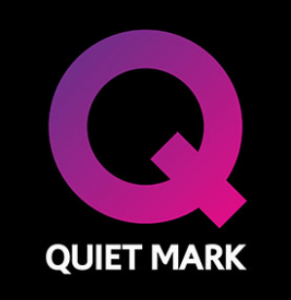 Almost all air purifiers are noisy when you select the highest fan speed. However, some are quieter than others. Even fewer air purifiers are whisper quiet and can work as you sleep peacefully. Also, if you want an air purifier for your baby's nursery, this is a crucial consideration.
You can compare the noise level by checking the manufacturer's dB (or dBA) figure, or just buy an air purifier with the Quiet Mark. This international certification is awarded by the Noise Abatement Society based in the UK.
Conclusion
Air purifiers are meant to protect us from airborne pollutants such as dust, house dust mites, pollen, bacteria, mould spores, and more. However, if a manufacturer does a shoddy job, your air purifier can end up causing health issues, financial loss, and even death.
That is why government and independent bodies exist to test and certify air purifiers before they hit the market. While government certifications are mandatory, a manufacturer who presents their product voluntarily to an independent organization such as AHAM gets more points from us.
It shows that they trust their processes and standards, and so should you. Lastly, do not expect one air purifier to bear all the nine marks above. Instead, check for what is crucial for you. As a bare minimum, it should have an allergy-friendly mark if you need it for fighting allergies.
Below are some examples of certified air purifiers (YouTube video by Fellowes Brands):